Mercury Network's tools allow lenders and AMCs (appraisal management companies) to manage their vendor workflow processes from a cloud-based platform in compliance with UMDP, appraisal independence standards, and security regulations. Mercury Network is not an appraisal management company, but rather a technology provider for AMCs and lenders.
Support Options
Call for an expert Client Relations Specialist: 1-800-900-4954
Note: If you're in an order click the Help icon to send a message referencing that particular file. This will help expedite your request and get your problem solved faster.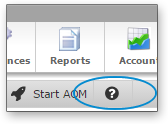 Related Topics: