Our partnership with Xerox Mortgage Services has resulted in a direct integration to their BlitzDocs product.  If you have a BlitzDocs account, you can now automatically send appraisals and UCDP documentation directly to your BlitzDocs folder, automatically or manually.  It's a huge advantage for your workflow when you use the BlitzDocs intelligent collaborative network to accelerate loans through their lifecycle.
 
 
 
 

| | |
| --- | --- |
| Note: | If this is your first time using BlitzDocs integration, please contact Bryan Young at Bryan.Young@Xerox.com before sending any documents to your eFolder that are associated with Mercury Network. |

 
 
 
 
Click Preferences, then Connection Settings to get to the BlitzDocs configuration for your Mercury Network account.

The Company ID and Loan Number Attribute ID are assigned by Xerox.
Documents are tracked according to the Loan Number.
Select the types of files to be automatically pushed to your eFolder:
When Completed Appraisals is marked, any report marked as completed will automatically be sent to your BlitzDocs account.
When UCDP Submission Summary Reports is marked, the SSR resulting from a UCDP submission will be pushed to BlitzDocs upon it being received back from the UCDP portal.  Since UCDP results aren't always instant, this feature keeps you from having to continually check back for your UCDP results.
When AQI Results is checked, Any time AQI results are generated, they are automatically pushed to your eFolder.
When VMP Invoices or VMP Compliance Certificates is checked, any time one of those document types is attached or uploaded, they are automatically pushed to your eFolder.
You can manually send a document to BlitzDocs by opening the order, clicking Set Order Status and choosing Send to BlitzDocs.
 
 
 
 

| | |
| --- | --- |
| Note: | After documents are pushed to BllitzDocs, there is generally a short period where they are pending and then accepted.  In other words, it's not a real time operation.  While documents are waiting to be accepted, their status is reflected in the documents list. |

 
 
 
 
BlitzDocs Options in the Orders Grid
When BlitzDocs features are enabled on your Mercury Network account, you area are also able to see which reports have been pushed to BlitzDocs via a column on the right side of the order grid.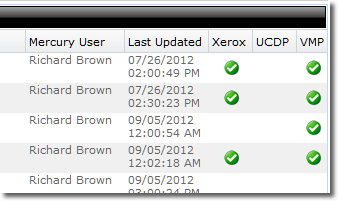 Likewise, in the document area, you are shown if a document is pending, was accepted or was rejected.  When documents are rejected, be sure to check the loan number on them and make sure there is a corresponding file in your BlitzDocs account.