Any appraisal delivered via DataCourier will be available for 90 days from the day it was delivered.  This means that you'll be able to access the PDF, MISMO XML, and any audit trail information up to 90 days after the appraiser delivers it to you.  After 90 days, the appraisal will no longer appear in DataCourier.
There are a few ways to know the date until which the appraisal will be available.
 
 
 
 

| | |
| --- | --- |
| Note: | When you purchase an AQM Module such as Appraisal Quality Index (AQI) or AQI with QC Module for an order delivered with DataCourier, the order is not deleted after 90 days.  These orders are permanently available for you to review at any time. |

 
 
 
 
See your DataCourier delivery notification
The first place you'll see the "available until" date is on the notification e-mail you received when the appraisal was delivered.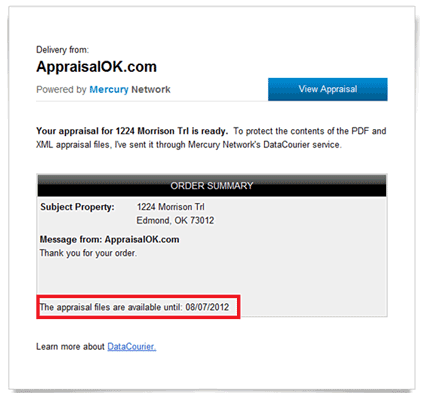 In the Property Details window
In DataCourier, double-click any appraisals to view the Property Details window.  Just below the map, you'll find the "available until" date.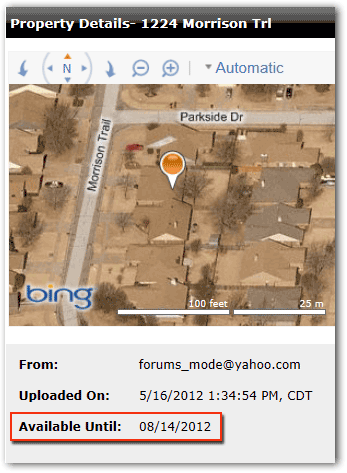 Check your "Expiring" folder
In DataCourier Orders view, you'll see a folder on the left labeled Expiring.  This folder contains any appraisals that will be available for less than 30 days from today.