| | | |
| --- | --- | --- |
|   |   |   |
|   | Appraisal Quality Management via DataCourier |   |
|   |   |   |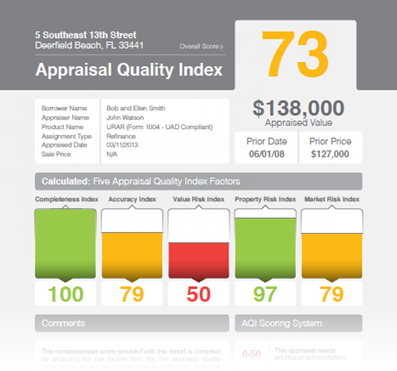 What is AQM?
Our Appraisal Quality Management (AQM) software system helps you build your own fully compliant appraisal quality control process.  Your reports are scrubbed against the most robust rule set, and you'll save time in underwriting since AQM isolates the incurable issues for your staff's focused review.  With AQM, you can get consistent QC across all your appraisal channels, and an end-to-end audit trail of your due diligence to reduce buyback risk and prove compliance.
AQM is a system for applying consistent and sound rules to each appraisal.  The rules check potential risks in terms of:
Completeness
Accuracy
Value
Property
Market
The system allows for all members of your QC team or Vendor's QC teams to provide consistent, transparent, and organized quality control to each appraisal submitted.  The final result of this system is the AQI or Appraisal Quality Index — a PDF that can travel with the loan to assist in making business decisions regarding a property and appraisal.
Related Topics:

End User License Agreement for AQM

Using AQM in DataCourier